News
30.11.23
We've got a secret we can't keep to ourselves any longer! Something NEW and EXCITING is about to unfold, and we can't wait to share it with you. No need to worry. it's all good vibes and positive transformations! Be the first to know by following our socials.
Get ready for a sneak peek into the future of our partnership.
Traffic Rush
Special drawing for Traffic Rush points
Green Class: Earn 20 points by securing a spot in the top-10 based on trading turnover from December 1st to 8th.
Blue, Yellow, and Red Classes: Earn 1000 points by making it to the top-10 based on FTD during the same period.

Time is on your side! You still have the opportunity to gain points and stand a chance to claim your share of the $57,000 prize pool. Let's finish this year on a high note!
Video Creator Awards winners
The Video Creator Award winners have been announced! Click the link to discover who took home $300, $150, and another $150! 🏆
Jeton RFT promo
🇮🇳 Lifehack for Partners from India: Do you want your traders to receive 5% of the deposited amount in RFT?
Risk-free trades (RFT) are a type of bonus that doesn't negatively impact the balance, have no trading turnover, and can be used with other bonuses. If a trader opens a successful risk-free trade, its profit is credited to your real account, but all unsuccessful RFTs are free
Every time a trader deposits using Jeton Wallet for Binomo, they get 5% RFT. To participate in the promo, users need to make a deposit of $20 (or higher) or the equivalent in other currencies. Plus, there's a 1% cashback for every deposit made to Binomo using Jeton Wallet. The trader will receive the cashback instantly once they complete the transaction.
Upcoming Binomo Maintenance Alert
⚠️ Upcoming Binomo Maintenance Alert: On November 9th, from 20:00 to 20:40 UTC, the Binomo platform will be undergoing maintenance. Long trades will be disabled at 18:55 UTC, and short trades at 19:50 UTC. We are informing you in advance, so you can plan your activities accordingly.
FTD, VIP offer
Greetings, partners! The payouts for VIP traders and FTD have come to an end after three-month run. We hope you made the most out of this offer!
As one chapter closes, another begins. Keep an eye out for the Traffic Rush to compete for the piece of the $57,000 prize pool and other ongoing activities. Let's keep the profit growing.
Geo news - India
Before you kick off your weekend, we have exciting geo news to share with you: 🇮🇳 India: Cricket star Deepak Chahar has joined the Binomo team!
Credibility: Partnering with a star enhances brand credibility, as fans trust their choices.
Emotional Connection: Fans feel emotionally connected, positively influencing brand perception.
Influence: Stars can influence fans' attitudes and behaviors, promoting brand loyalty.
Differentiation: Collaboration sets the brand apart, creating a unique selling proposition.
Show your audience that you trade with a reliable trading platform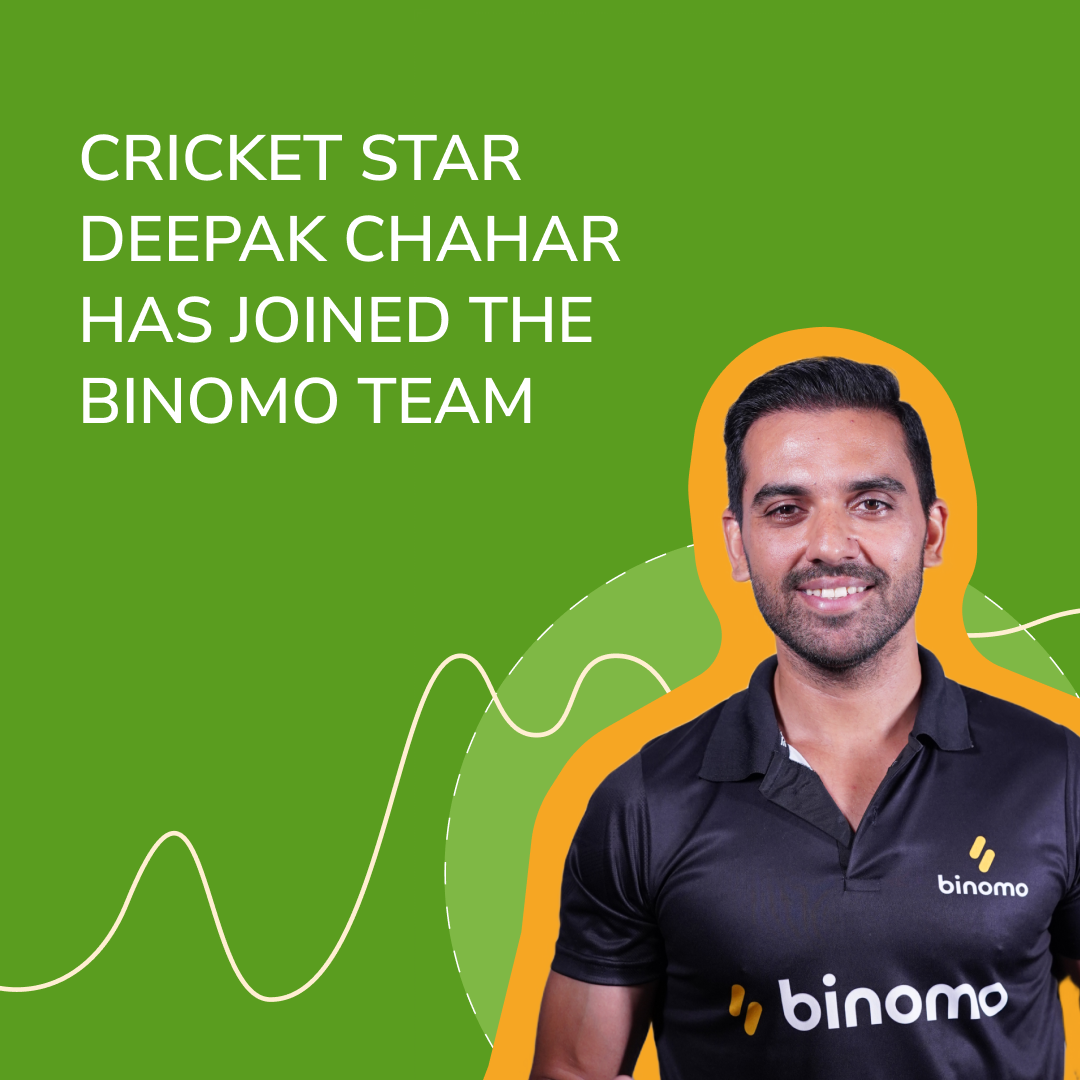 Binomo X
Product update: new app for VIP traders. Binomo X is an exclusive Android app for Binomo users with VIP status or higher.
What can the app offer to your traders?
- The Scalp Pro indicator and drawing tools
- The ability to work with 3 assets simultaneously
- Quick access to request a personal manager call
Now your traders can trade on the go with the brand-new app. Share this news with your audience
Attention!
Attention, partners! We want to inform you about our new domain in Indonesia at binomo-investbroker.com to ensure uninterrupted access to our platform. Please update your communications accordingly. Thank you for your understanding!
Exclusive Referral Benefits
Your way to increase your RevShare %. Get the most out of the Exclusive Referral Benefits promotion
October 20th through December 20th:
- Attract referral partners
- Earn points for each of them
- Make it into the top 3 and get an increased RS % for 1 month
Your extra motivation is 5% of referral earnings which is always with you
Find out more in the Contests section